Western Australian public sector workers fight for a living wage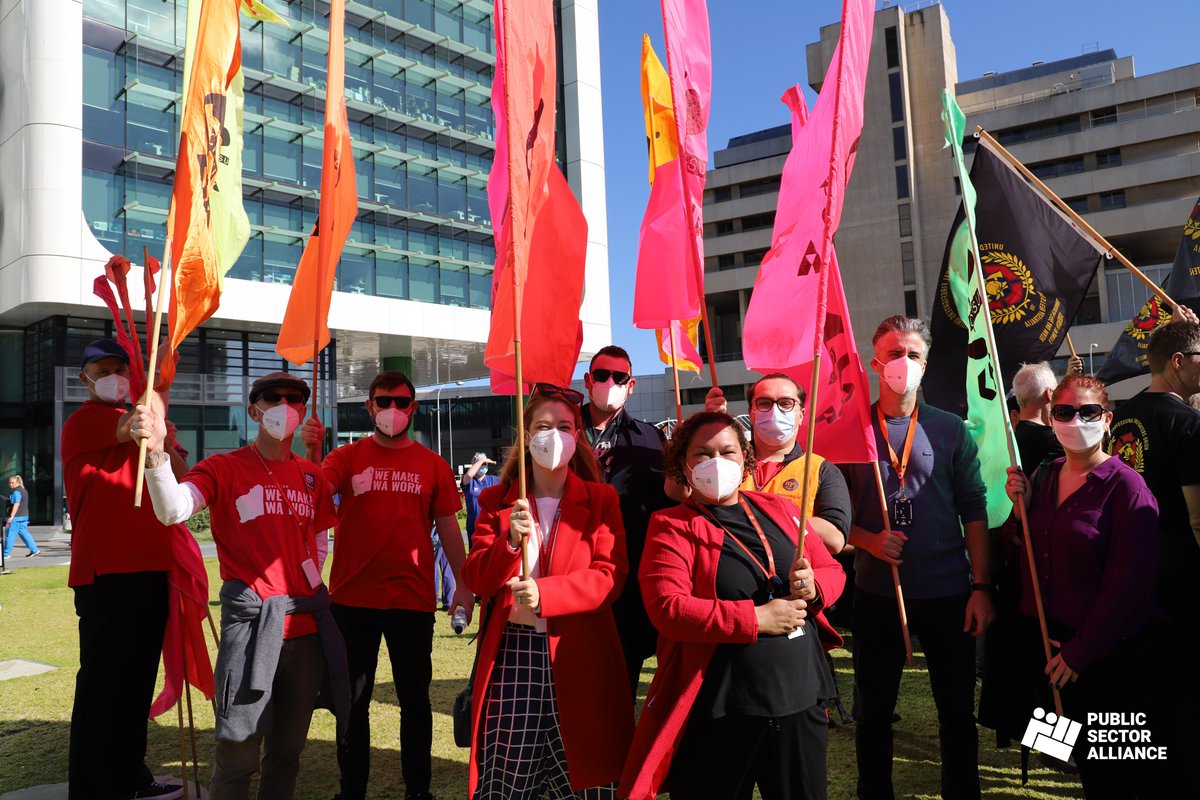 Public sector workers in Western Australia will rally outside state parliament on August 17 to demand wages keep pace with the cost of living. The rally, organized by the Public Sector Alliance of nine unions, follows several work stoppage rallies held in WA hospitals over the past month, involving thousands of healthcare workers.
Since being elected in 2017, McGowan's Labor government has imposed severe pay cuts on the state's 150,000 public sector workers. Until last December, wage increases were capped at between 1 and 1.5% for most public sector workers. The government then raised the cap to 2.5%, plus an additional signing bonus of 0.25% or $1,000.
On July 31, in a move clearly intended to curb support for the August 17 rally, McGowan announced another policy change. Wage increases are now capped at 3%, with a one-time "cost of living payment" of $2,500.
McGowan's media statement boasted that a patient care assistant who earns just over $55,000 a year would get a 7.5% pay raise in the first year. What the statement fails to mention is that the same assistant would enter the second year of his company agreement with only a 3% increase in his base salary.
Western Australia has seen the biggest increase in the cost of living in the country. According to the Bureau of Statistics, Perth's annual inflation rate is 7.4%, well above the national average.
Despite McGowan's insistence that "a public sector job is a secure job" and "a good job," the state's public sector is reeling from labor shortages, particularly in the areas of health and education. A booming iron ore industry is contributing to rising rents and property prices, while diverting workers from public sector employment to better paying jobs.
Rail, Tram and Bus Union secretary Josh Dekuyer told the West on 27 July that around 45 train conductors had left Transperth in the past twelve months, many seeking more lucrative employment on the iron ore freight lines. According to Dekuyer, drivers jokingly call the Public Transport Authority the Pilbara Training Authority.
However, it is in the health sector that labor shortages are most severe, particularly in rural and regional areas. On July 29, a patient at Fiona Stanley Hospital had to wait fourteen hours for a bed.
"There was a loud message on the loudspeaker asking people to leave if they didn't really need to be there because the average wait time was around 10 hours," Anthea Paino told 7 News.
In March, two elderly Perth patients died while waiting for ambulances.
According to St John's Ambulance Service, ambulance ramp-up times reached 6,982 hours in July, the highest on record. Surge occurs when paramedics are unable to transfer patients to emergency departments due to a lack of staff or beds. Although COVID-related staff absences were a contributing factor, the crisis predates the March 2022 explosion in the number of COVID-19 cases. In 2021, the ramp-up of ambulances doubled compared to the previous year.
The Health Sector Union (HSU), which brings together physiotherapists, pharmacists and health administration workers, and the United Workers Union (UWU), which brings together registered nurses and auxiliary workers, including including kitchen, cleaning and laundry staff, held work stoppage meetings at public hospitals across the state demanding better pay and conditions for healthcare workers.
As workers feel the pain, the state's wealthiest are filling their pockets with profits from the iron ore boom. In May, the Australian Financial Review reported that two mining magnates – Gina Rinehart and Andrew Forrest – had both increased their personal net worth to more than $30 billion. The iron ore boom also put money in government coffers. The May budget revised the state surplus to $5.7 billion.
Since June of last year, the Public Sector Alliance has been campaigning to reverse the state's below inflation wage policy. However, the unions concerned are far from being united in their demands. The UWU and HSU each adopted the "Five to Survive" slogan, calling for a 5% wage increase.
In June, the State School Teachers Union, also a member of the Public Sector Alliance, accepted the government's offer of 2.5% below inflation, much to the chagrin of many of its members and trade unionists beyond. of the public sector.
The Community and Public Sector Union/Public Service Association is asking for a pay rise whichever is greater: 4% per annum, or Perth CPI plus 0.75% in the first year and CPI plus 0 .5% in subsequent years. While he firmly rejected the government's current wage offer, other unions within the alliance have been more equivocal.
In August, the UWU told its members that "the health and education bargaining committees will meet next week and consider the government's offer". The HSU and WA unions issued similar statements.
Only the maritime union, which brings together the workers of WA Port Authority, calls for a strike on August 17. While the Union of Railways, Trams and Buses was reported by the West on July 27 to survey its members to gauge interest in leaving on August 17, it made no further announcements.
The Australian Nursing Federation is notably absent from the Public Sector Alliance. In June, after secretary Mark Olsen announced his impending retirement, registered nurse Sam Fenn declared his intention to run for the position in the upcoming union elections.
"I want to see a return to focus on the core business of a union which is improving industrial relations and workplace representation, rosters, conditions and wages for all members," he said. she told local media.
In New South Wales, nurses demonstrated what is possible, vote branch by branch to reaffirm their will to fight for a wage increase of at least 7%, in defiance of union officials. The salary policy of the NSW Liberal government is little different from that of McGowan. Teachers, nurses and railwaymen in this state have been at the forefront of industrial action.
The August 17 rally of public sector unions is an important step in bringing workers together to show our rejection of McGowan's wage austerity. We have to make sure this is just the beginning.