The intrusion of former deputies of parliament is a gift for the crowd of the occupation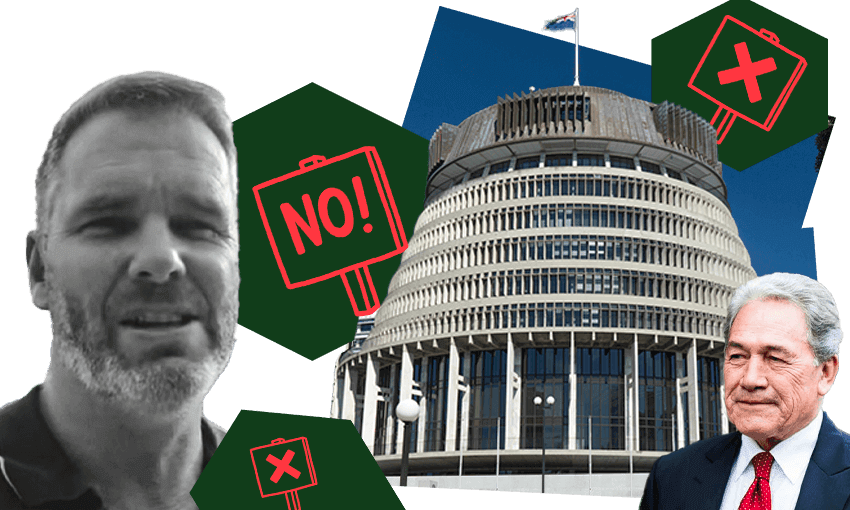 Whatever you think of Matt King's politics, banning a fledgling party leader from parliament for two years is silly in principle and plays into a crowd desperate to stoke paranoia, argues Toby Manhire.
Update: Shortly after this article was published, former Deputy Prime Minister Winston Peters, who briefly visited the occupation, revealed that he too had received a trespassing notice from parliamentary security, which, in the honest opinion of the author, is even more bewildering, bizarre. and doomed to backfire horribly.
I was also expelled from parliament once. It was September 1997 and I was editor of Salient, the student newspaper at Victoria University of Wellington. In protest against proposed reforms in higher education, a group of students floated pamphlets from the public gallery to the House of Representatives. The speaker, Doug Kidd, was furious. Parliamentary Security issued trespassing notices to these paper wretches ordering them to stay away for two years. One was addressed to me. The only problem was that I had no involvement in the flyer. I wasn't even there – at the time, I was back in the Salient office, playing Tetris on a Macintosh Plus.
I called the head of parliamentary security, who conceded that they were "a bit vague" on some IDs, alerted the local media (by fax, of course) and ended up winning a small cash settlement I spent on an OE.
My experience was a relatively trivial sideshow to a larger story: the arrest of several dozen college students, including someone called Chris Hipkins, who was wrongfully arrested and brutalized after being raped. They ended up winning formal apology and compensation. But the memories came flooding back yesterday seeing the trespassing notice received by Matt King, the former National MP for Northland.
Two months after the end of the occupation of parliament ugly and fiery finish, King had received a trespassing notice almost indistinguishable from the one I received in 1997. There are no cases of mistaken identity here, but there are plenty of vague ones. It's unclear, for example, whether everyone who took part in the protests after Trevor Mallard declared the ground closed has been or will receive their own two-year ban. King was hardly a leader; he attended for a few days and spoke in favor of the anti-warrant mob, but he did not camp. He could not be properly described as an organizer of the occupation, and there is no indication that those who played a role in the management of the event – the leaders of Convoy 2020 and the Freedom and Rights Coalition, for example, or Sue Grey, Chantelle Baker, the Counterspin team, the Voices for Freedom trio, the list goes on – received similar letters. If they had been, it's a safe bet that they would make noise.
If King gets a trespassing notice, what about Jason Kerrison? The ark-loving musician was there longer than him. Another former MP, Rodney Hide, addressed a cheering crowd. What about Russell Coutts? Winston Peters? How about the day trippers who gawked like tourists in Christiania in Copenhagen?
Matt King has pledged to run for parliament again as the leader of a newly formed but not yet registered party called Democracy NZ. In my opinion, he has been sucked into a conspiratorial orbit, promulgates ideas that include dangerous misinformation about vaccines, and gives succor to insurgent groups like Counterspin by happily participating in their disinformation videos. But as history attests, talking nonsense is no reason to be kept out of parliament. The bar for banning any New Zealander, let alone anyone wishing to participate in democratic processes, should be set high. The letter sent to King does not even detail the reasons why he asked him not to set foot anywhere in parliament until 2024.
In the (admittedly unlikely) event that King is elected to Parliament next year, it would set up what someone who understands these things better than me calls "a doozy of a constitutional collision", given that he could not sit or vote as an MP until he took the oath of allegiance, which the speaker is responsible for administering in the House of Representatives, which happens to be a place he is prohibited from to enter. I was personally impressed that no sitting MP chose to address the Occupy crowds, but I would be utterly appalled if they were banned by parliamentary security from their own place of work for two years if they had. It's borderline prankish.
Matters of principle notwithstanding, the ban, issued by the head of security acting on the authority of the speaker, Trevor Mallard, is manna from heaven for the self-proclaimed "freedom movement." A bit unlike a pretentious student journalist at the time, they will enjoy making a meal out of it.
The end of the occupation and the end of most mandates deflated the tires of the convoys. The various participants dispersed to Peka Peka, Marsden Point, for a deeply sad fortnight-long "Unite" protest event in Wellington, which hardly anyone attended. Many poured their remaining energies into mask misinformation, imported American conspiracy theories, calling themselves sheriffs, even defending Vladimir Putin's invasion of Ukraine. And they turned on each other, with muddy exchanges about political ambitions, who had done what with donated funds, who was a 'crackhead', who was 'in bed with the police' .
For a diluted, disenchanted, and divided movement, an intrusion notice that drops unexpectedly is a blessing – a chance to rally against a perceived common enemy and cry out (as King did) "tyranny." It's also a blessing for King, who is trying to upstage the countless political wannabes who seek to harness the energy of the occupation. I'd be amazed if he didn't force himself into the limelight and take it with him to court, challenging parliament's two-year ban and seeking to summon a cause celebre.
As police continue the process of pursuing those arrested during the occupation and riots, as picnickers and a series of protesters return to the re-seeded lawns of parliament, the last thing we need is provocation, especially if it is democratically dubious and serves the purposes of disinformation superspreaders. If the goal is to rallying, unifying and animating the illegal campers of parliament is perhaps the most effective tactic since sprinklers and barry Manilow.
---
Follow The Spinoff's Political Podcast Passed by lunch time on Apple podcast, Spotify or your favorite podcast provider.