Start of the National Survey of Professions in Cuba – Escambray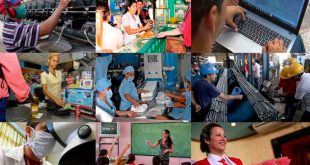 More than 60,000 Cuban households will participate from Tuesday to June 30 in the National Occupation Survey, which will analyze the characteristics of employment and the subsequent evolution of public policies
The exercise has been conducted by the National Statistics and Information Office (ONEI) on an annual basis since the 1980s, although this time it was resumed after two years due to the Covid-19 pandemic, Master of Science Carlos Alfonso Fraga, deputy director of the institution, recently explained to Prensa Latina.
According to the specialist, the survey will give results by territory and at the country level, in the active age groups between 17 and 64 years for men and between 17 and 59 years for women.
Among the indicators to be measured will be the number of active people, age, skin color, province, level of education and employment prospects of Cubans, to name a few.
Fraga said that the data will contribute to the adoption of concrete measures by the Ministry of Labor and Social Security (MTSS), the Ministry of Economy, as well as researchers and university centers.
The 2020 report revealed a low unemployment rate in Cuba, an aging labor force, a decrease in the economically active population, an increase in the number of retirees and retirees and a high presence of people who do not want to work, Fraga pointed out.