Raimondo and Walsh outline their vision for workforce training at the Providence Chamber annual meeting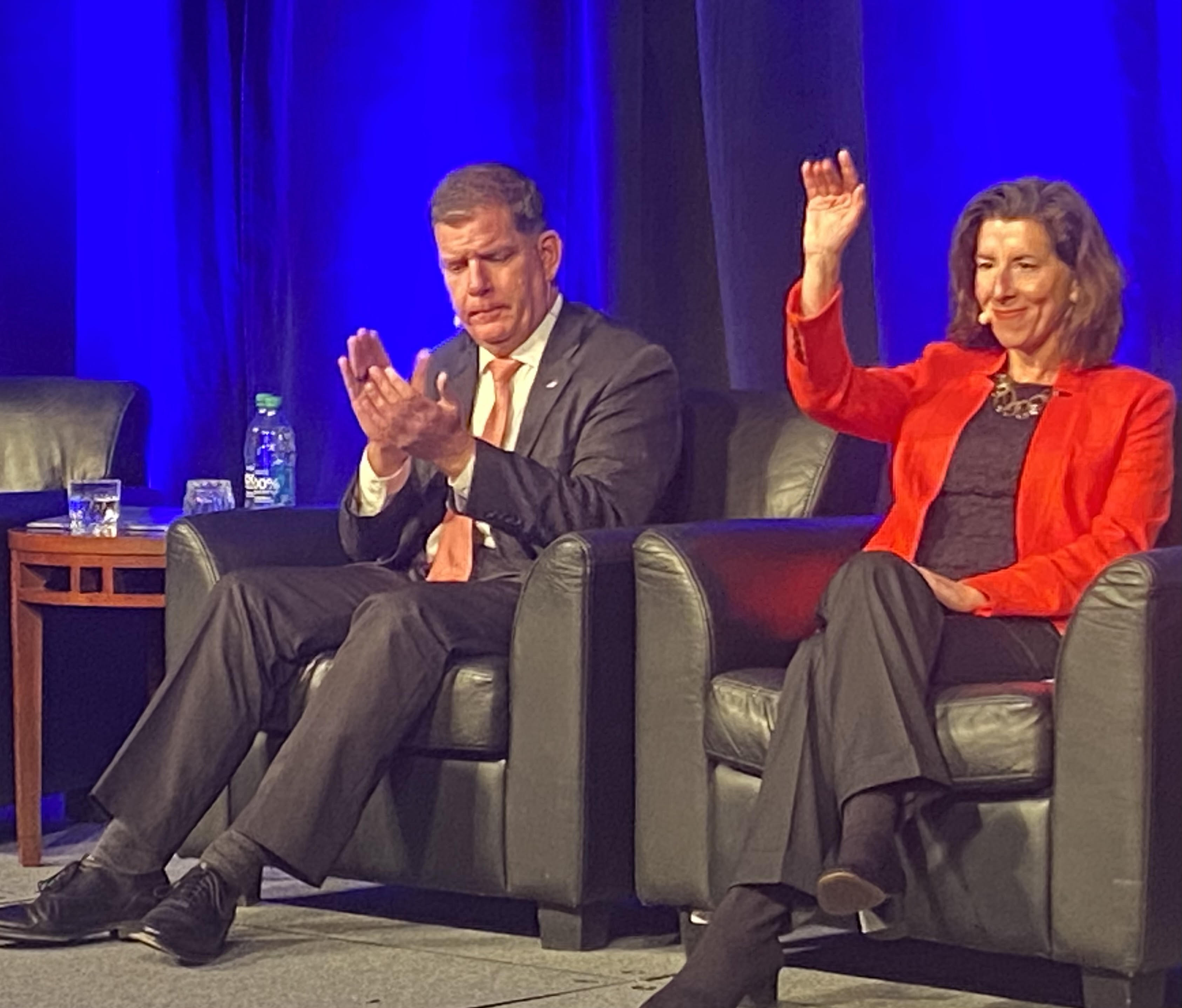 PROVIDENCE — A top job in DC hasn't changed U.S. Commerce Secretary Gina M. Raimondo's perspective on how to grow the economy.
Indeed, Raimondo's belief that jobs — and the people who fill them — are the foundation of economic success bears a strong resemblance to his approach to running Rhode Island as a former governor.
"My biggest worry is that we won't have the talent we need," Raimondo said, addressing business leaders at the Greater Providence Chamber of Commerce's annual meeting on Monday.
Raimondo and U.S. Labor Secretary Martin J. Walsh outlined their plans for how to recruit, train and retain this talent during a Q&A roundtable with House Speaker Laurie White and Community College of Rhode Island President Meghan Hughes.
There is certainly no shortage of federal funds available to help pull the country out of the pandemic crater, including the recently announced $5.5 million to expand broadband access and affordability in Rhode Island.
And that's just the beginning, Raimondo pledged, saying she expects "a minimum" of $100 million in federal funding to bring affordable high-speed internet to everyone in Rhode Island.
With that money comes jobs, such as construction workers to build mile-long fiber optic cables, and information technology specialists to help businesses and colleges tap into that high-speed Internet. Similarly, federal funding of $280 billion under the CHIPS and scientific law to drive research and domestic manufacturing of semiconductor chips, workers of all skill and education levels are needed to design, manufacture and use the technology.
"The biggest threat to our economy is not inflation, it's not a recession, it's a labor shortage," Walsh said.
He underscored the value of apprenticeships in particular in exposing high school students to the kinds of stable, well-paying jobs that these heavily funded industries can offer.
Then there is the question of keeping workers on the job, an issue that employers are struggling to solve in a tight labor market.
Raimondo saw the pressure for employers more than just a paycheck as a good thing.
"Employers need to up their game," she said, explaining how workers seek companies that promote environmental sustainability, diversity and other good governance practices.
Workers also have practical needs, like child care and professional development opportunities, Walsh said. He pushed back against the new phenomenon of "silent resignation", insisting that workers were just as "hungry" and "aggressive" as ever, but lacked the training and support they needed to thrive in the workplace. work.
As Hughes pointed out, Walsh and Raimondo have the hands-on experience of running a city and a state, respectively, to help them meet these critical workforce training and retention needs. work. Hughes urged them to 'move past' political jargon and complex policy ideas into a simple plan of action that 'can actually happen'.
And what better place to try this plan than the old playground of Raimondo, which already has a rich educational landscape and a strong workforce training program, including the Real Jobs Rhode Island program launched under the Raimondo's tenure as governor.
"Use Rhode Island as a proving ground," Hughes said.
Nancy Lavin is a staff writer for PBN. You can reach her at Lavin@PBN.com.

Want to share this story? Click here to buy a link that allows anyone to read it on any device, subscribed or not.