New Mexico teachers praise living wage hike / Public News Service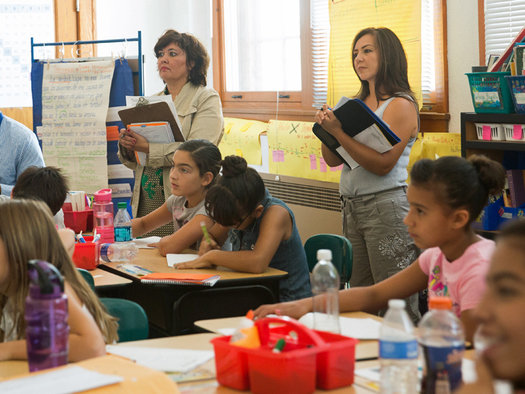 Teachers returning to the classroom in New Mexico this fall will see the first significant salary increase in several years.
Starting July 1, all public school teachers, regardless of grade, will receive a raise of at least $10,000.
Whitney Holland, president of the American Federation of New Mexico Teachers, was elected after teaching for nearly a decade. She has advocated for what she calls a "living wage" because she remembers how hard it was to make ends meet when she started teaching in 2012.
"So when I started, I made $32,000, and it was tough," Holland said. "Now our entry-level teachers will make $50,000, and that's pretty significant. It's competitive for the regions around us, and it's competitive for other professions."
The annual salary for tier "two" teachers will now be $60,000 per year, while "tier three" teachers will see their salaries climb to $70,000. According to the governor's office, the increases make New Mexico the highest-paid education system in the region, higher than Arizona, Colorado and Utah.
In addition to salary increases, Holland pointed out that recently passed legislation would lay the foundation for rebuilding the educational profession in New Mexico, investing in the educator workforce to retain veteran educators and attract new ones. new educators in the state.
"We wholeheartedly believe that having fully staffed schools is exactly what our students deserve," Holland said. "All of this legislation is a step towards that and rebuilding those schools and staffing them."
According to Holland, the pandemic has not only decimated teaching positions in schools, but also created nearly 2,000 vacancies for positions such as bus drivers, caretakers, secretaries and others who help run schools. New Mexico was the only state to bring in members of the National Guard, Army and Air Force troops to fill in for teaching due to pandemic-related absences.
Disclosure: The American Federation of Teachers contributes to our fund for reports on education, health issues, living wages/working families, and social justice. If you would like to help support news in the public interest, click here.
get more stories like this via email