Lectures, workshops and sober evenings: an insight into Sidgwick's occupation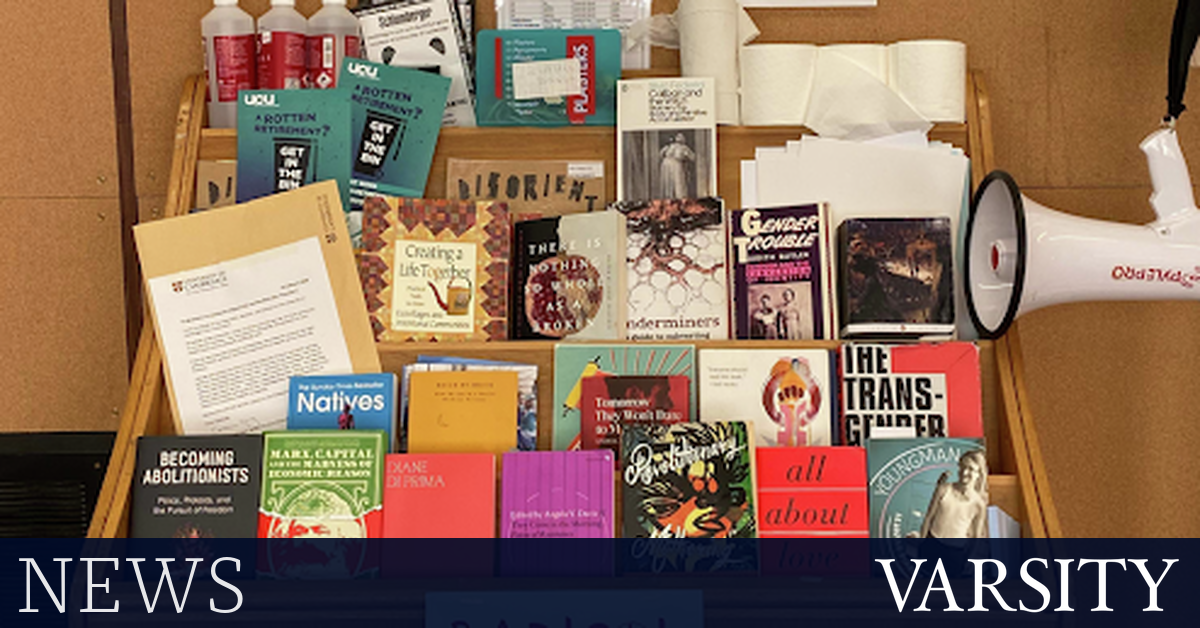 Looking down the stairwell of Solidarity College, the change from a few days ago is dramatic. Homemade posters and flags hang from the railings. Toilets were made gender-neutral and an office on the top floor was turned into a social support centre. Lecture halls once used for economics now house mobilization workshops and history lessons on earlier trades.
On Tuesday morning (22/02) at around 8.15am Cambridge Defend Education students entered the lecture block and barricaded themselves. The occupation of Block A at the Sidgwick site – dubbed "Solidarity College" in reference to the title of Old School's 2020 occupation – has been loosely planned since the strikes last December. The last round, which ends this Wednesday (2/3), has advanced the occupation.
Activists want the University to commit to negotiating with UCU a comprehensive recognition agreement that includes all categories of staff and improves working conditions for college supervisors. They say they won't leave until the University responds to their demands.
Despite the chains at the door, the occupation is open to all. Although I receive an initially chilly reception when I say I have just Universitythe guards agree to let me have a ride.
I'm told the Occupation has a strict Covid-19 policy – you'll need a negative LFT to enter and you'll be required to wear a mask in any common area. Inside, this doesn't seem to be enforced: no one checked my test and masks were worn sparingly. About 15 college and graduate students were milling about in the lobby, chatting and pecking at the snack bar. Friendly scholars apparently dropped by to bring food; the occupants tell me that they eat "incredibly well".
To the right as you enter are the building rules. No alcohol and drugs, Covid tests at the entrance and a cleaning system in which everyone participates; although there were a few abstentions on Friday afternoon.
Their collective goal is to make the occupation "safe" for everyone. One occupant said, "It's the best space [they've] never lived in Cambridge".
The occupation is allegedly non-hierarchical. All decisions are taken by consensus during the daily public meeting. Working groups have been appointed to examine certain areas such as fire safety, welfare and workshops. One of the occupiers said they were "actively working against systems of oppression".
A carefully planned map of the building was outlined to me before I arrived. However, in practice it is much more relaxed. The slightly sweet-smelling lecture halls on each floor are used indiscriminately for workshops, time-outs, or study, though when I arrive only a few go on to graduate school. In several rooms, sleeping bags are strewn on the floor and the lights are dim. I'm told the block has recently been refurbished and is "actually quite comfortable". There is also underfloor heating.
I catch the end of a model-making workshop which moves on to "common writing". The latter, taught to the internship supervisor himself trained by one of the academics, begins with "free thought" writing before a collective examination of "what is possible". Attendance is low: about six showed up as most are downstairs in the dining room. Organized events like Sunday's (27/2) collaboration with the 'Queer Get Down' promised higher numbers.
In the background, there is how long the occupation of the "Solidarity College" will survive. The University said University that "We support the right to peaceful protest but the occupation of the University amphitheater by a small number of people disrupts access to education for all other students and teachers who use these buildings. We strive to minimize disruption to classes.
When asked about this, an occupier told me that "the disruption of education is not representative of the real disruption of education when staff are exploited, underpaid and put in precarious positions. This means that students are not getting the education they were promised and deserved.
The occupation is in constant dialogue with the University – representatives of the latter came on Thursday to check the fire safety procedures. I am not told what the substance of the negotiations is, but an eviction notice has been served. A hearing will be held in this matter on Thursday, March 3 in Cambridge County in Cambridge.
Publicly, "Solidarity College" is defiant. Individually, there are doubts. One of the occupants said he was not afraid of college and would not leave until the demands of the occupation were met. Another says they fear it will be over within a week.
For now, among their lectures, workshops and parties, the occupation continues. While the strikes will end this week, students don't seem likely to be leaving Solidarity College anytime soon.
University is the independent newspaper of the University of Cambridge, established in its present form in 1947. In order to maintain our editorial independence, our print newspaper and news website receive no funding from the University of Cambridge or its colleges constituents.
We are therefore almost entirely dependent on advertising for funding and expect to have a few difficult months and years ahead.
Despite this situation, we will be looking for inventive ways to seek to serve our readership with digital content and of course in print!
Therefore, we ask our readers, if they wish, to donate from as little as £1, to help cover our running costs. Thank you very much, we hope you can help us!