Kanzen Karate has become an Accredited Living Wage Employer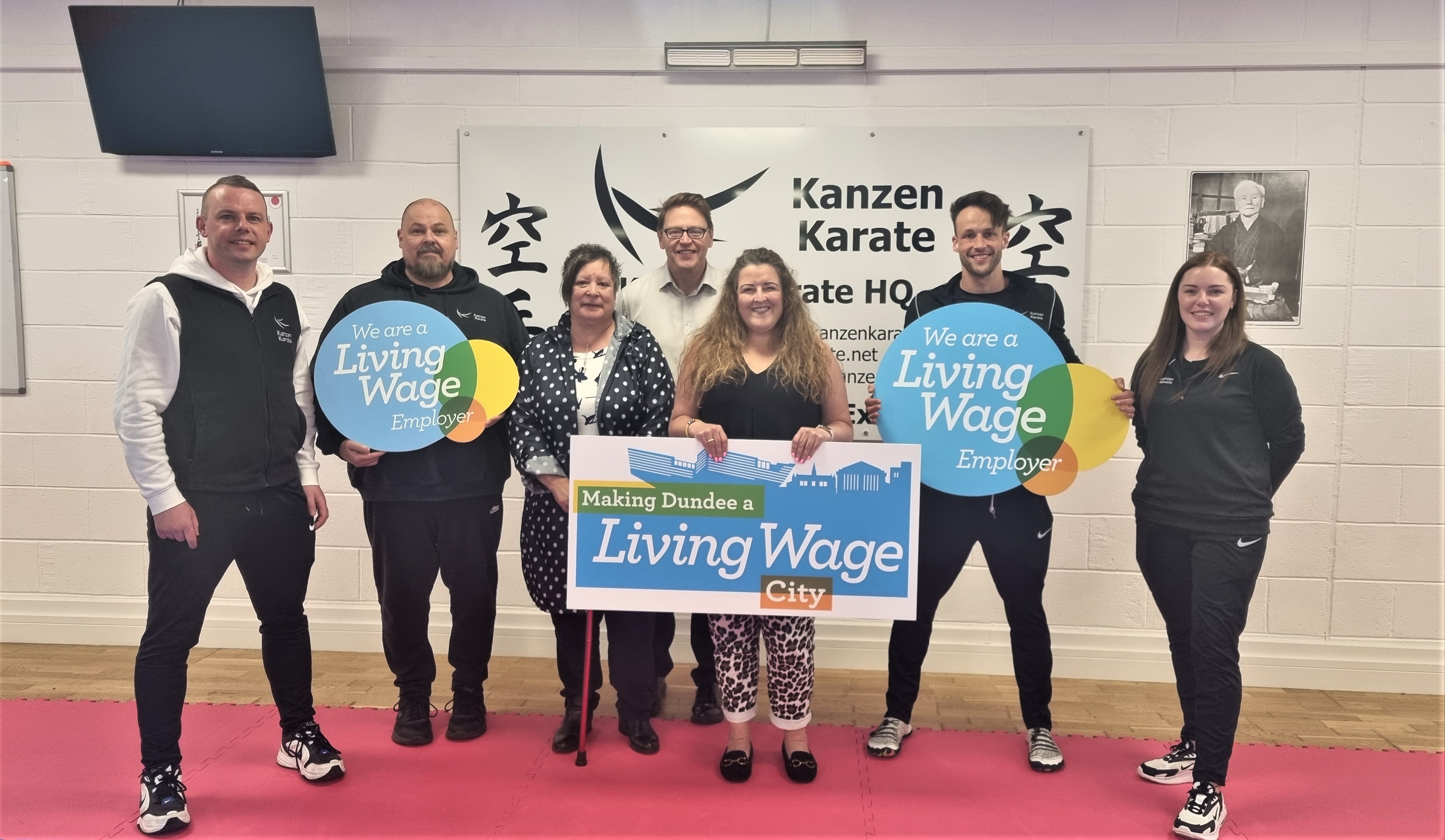 Kanzen Karate is today accredited as a living wage employer. The living wage pledge will see everyone working at the Dundee-based charity receive a minimum hourly wage of £9.90 per hour. This living wage rate was announced on Monday 15e November 2021 as part of Living Wage Week. This rate is significantly higher than the government minimum for over 23s, which currently stands at £9.50 per hour (from 1 April 2022)
In Scotland, more than 14% of all jobs pay less than the actual living wage – around 330,000 jobs. Despite this, Kanzen Karate is committed to paying true living wages and offering a fair wage for a hard day's work.
There are now over 20,000 workers in Dundee covered by a living wage pledge and the campaign to make Dundee the first living wage city has continued to grow.
The real living wage is the only wage rate in the UK calculated on the basis of the cost of living. Employers choose to pay the Real Living Wage on a voluntary basis, recognizing the value of their workers and ensuring that a hard day's work receives fair pay.
Since 2011, the Living Wage movement has raised wages for more than 55,000 people in Scotland and put more than £310million more into the pockets of low-wage Scottish workers.
Roy O'Kane, chief officer of Kanzen Karate said"The dignity of work is so important to a well-rounded society, and we are excited to play our part in becoming a Living Wage Certified Employer. Kanzen is an organization rooted in the communities we operate with and paying living wages is such an important part of that.
Equity spokesperson Councilwoman Georgia Cruickshank said"I am delighted that Kanzen Karate has joined over 100 accredited companies in Dundee and has committed to paying its staff this improved rate of pay.
"We know that paying the actual living wage makes employees feel valued and provides more security and stability. By paying the real living wage, Kanzen Karate ensures that its employees are valued.
Equity spokesperson Councilor Lynne Short said: "I am very proud to show my appreciation of Kanzen Karate and celebrate their new living wage accreditation. Taking this step will encourage their peers to do the same and I'm especially thrilled that their energetic young workforce is earning the same as everyone else in other organizations because the real living wage starts with a baseline much younger.
"Everyone is rewarded regardless of age for a job well done."
Peter Kelly, Director of the Poverty Alliance said: "We all need enough income to cover our needs and protect us from poverty, and it is right for employers to pay wages that reflect the cost of living. Too many workers in Scotland are being paid less than the actual living wage and, in an era of rising costs, are struggling to stay afloat. The real living wage can provide protection against these rising costs. »
"Congratulations to Kanzen Karate for their commitment to Living Wage, and I hope other organizations will follow their example by becoming Living Wage Accredited."
Christine McCaig, Projects Coordinator, Living Wage Scotland said, "We are delighted that Kanzen Karate has become an Accredited Living Wage Employer. They join a growing movement of more than 2,700 employers in Scotland who together want to ensure workers have what they need to thrive and their accreditation is helping to strengthen the drive to make Dundee a living wage city.
Our Living Wage Employer Network includes many smaller employers as well as larger and more iconic brands such as SSE, abrdn, Barrs, Mackie's of Scotland and DC Thomson. We hope to see many more employers follow their lead.