Human rights organization Afrin calls for an end to the Turkish occupation and embargo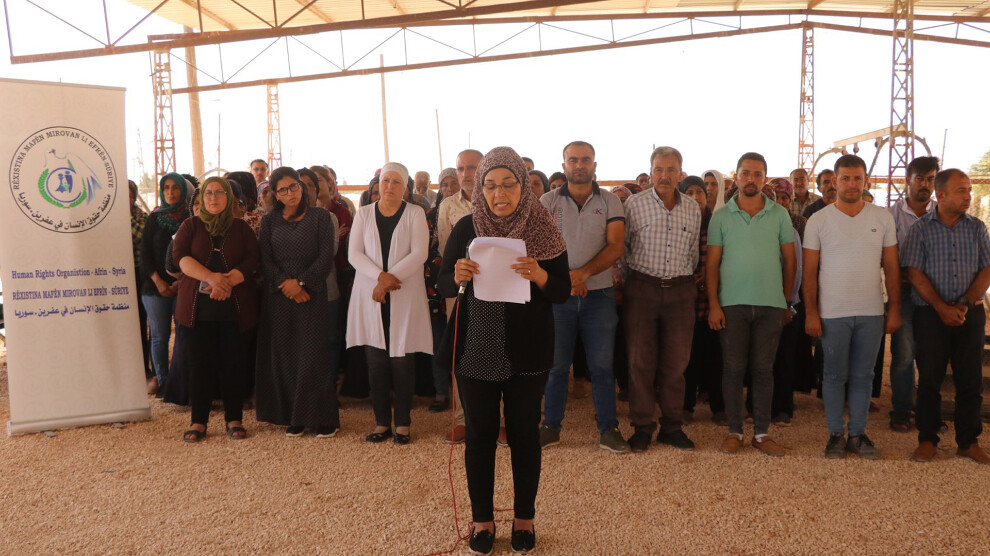 Afrin Human Rights Organization and Non-Governmental Organizations in Shehba issued a joint statement to mark September 1, the World Day of Peace. The statement urged the international community to end the violations of the Turkish army's invasion against nature and the people of Afrin.
Non-governmental organizations from Serdem camp in Ehdas district of Shehba township were also present at the press conference.
The statement was read by Leyla Mehmud, a member of the Afrin Human Rights Organisation.
"The United Nations (UN) declared September 1 as the International Day of Peace in 1981 to promote peace among nations and peoples and to guarantee all human rights," the statement said in reference to the World Day of Peace. the peace.
ALL TYPES OF WEAPONS USED FOR 8 YEARS
"We Syrians are witnessing with our own eyes the effects of air pollution caused by the weapons used in the conflicts. All kinds of weapons, even banned chemical weapons, have been used in the region for more than 8 years, killing civilians, destroying the environment and infrastructure, and polluting the air. Trees were felled and fields burned. For example, over 12,000 hectares of agricultural land have been burnt and over 400,000 trees felled by the invading Turkish state and its mercenaries in the Afrin region," the statement read.
SUPPORT US FOR JUST PEACE
"Support us to achieve a just peace, free from wars, religious, ethnic, ideological and national violence. Let's support dialogue, the rule of law and social justice. Support us so that we can promote peace and end hostile practices and protect our dignity and our lives. Help us stop external threats and interventions that cause destruction and insecurity locally and internationally," the statement read.
The statement also raised concerns about the situation of internally displaced people in Afrin, saying, "It is the duty of the international community to protect refugees who are among the most vulnerable populations in the world. However, we see no such protection in the camps and migration areas where Afrin's displaced people are staying. The competent authorities, whether states or organizations affiliated with the United Nations (UN), do nothing.
The statement urged international organizations related to women and children, the International Committee of the Red Cross, the UN Refugee Agency and human rights organizations to prioritize their legal responsibilities rather than as well as their humanitarian and moral responsibilities, improving the situation of the camps and the refugees. , listening to their demands for a decent life, ending the Turkish occupation and ensuring the return of refugees to their homes.