Hopkins County has the lowest July 2022 unemployment rate in the labor force zone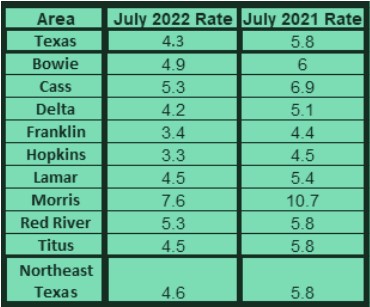 Hopkins County's unemployment rate of 3.3% in July 2022 was the lowest in the Northeast Texas Workforce Development Zone, with Franklin County in second place at 3, 4%, followed by Delta County at 4.2%. These were the only three counties among NETWDA's nine that were below the July 2022 state unemployment average of 4.3% and the Texas seasonally-adjusted average of 4%, but only Hopkins and Franklin counties were below the July 2022 U.S. unemployment average of 3.8. % and US seasonally adjusted rate of 3.5, according to the Texas Labor Market Index/Texas Workforce Development reports published on August 19, 2022.
State and National Statistics
Texas' seasonally adjusted unemployment rate again fell to its lowest level since February 2020 at 4.0%, down 0.1 percentage points from June 2022. Texas added 72,800 total nonfarm payrolls in July 2022. For the ninth consecutive month, the state has set new employment highs. while total non-farm employment reached 13,513,100. Texas has added a total of 736,700 positions since July 2021.
"Since January of this year, Texas has added 406,800 jobs, the strongest growth we have seen during this period in a year," TWC President Bryan Daniel said in a TWC press release. August 19, 2022. "This also marks the ninth consecutive month we have set employment records in Texas."
Education and health services gained 14,300 jobs during the month. Professional and business services added 12,700 jobs, followed by trade, transportation and utilities, which increased by 12,500 jobs.

"Texas continues to create jobs month after month, and our unemployment rate continues to fall – which means more jobs for Texans," TWC Labor Commissioner Julian Alvarez said in the statement. on the workforce. "Regardless of experience or skill level, Texas offers everyone opportunities to succeed not just in a job, but in a career."
"The declining unemployment rate and growing jobs are a testament to our innovative and resilient Texas employers," TWC Commissioner Representing Employers Aaron Demerson said in the August 19, 2022 news release. "Whether you're looking to whether hiring new talent or upgrading the skills of existing employees, TWC is here to support Texas employers as they grow their workforce and continue to succeed in the Lone Star State."
Overall, 630,000 Texans out of a civilian labor force of 14.6 million were unemployed in July 2022, a slight decrease (0.1%) from June 2022, when 639,100 of the 14.58 million Texans were out of work, and 0.5% better than July 2021, when 831,500 of Texans' 14.25 million CLFs were unemployed.
Nationwide, 6.2 million out of 165.3 million CLFs were unemployed last month, a seasonally adjusted U.S. unemployment rate of 3.8 for a second month, up from 5.7% in July 2021. The U.S. rate seasonally adjusted fell 0.1% to 3.5% last month, down 1.9% from July 2021.
NETWDA Statistics
The unemployment rate decreased slightly in the Northeast Texas Workforce Development Zone from 4.7 in June 2022 to 4.6 in July 2022, both below the rate of 5, 8 registered in July 2021 for the WDA at 9 counties.
After tracking Franklin County for most of the past 12 months, Hopkins County's July 2022 unemployment rate fell just below Franklin County's. Unemployment fell in five of NETWDA's 10 counties, and unemployment rates in the other four NETWDA counties were unchanged from June 2022 to July 2022.
The CLF in Hopkins County fell from 17,975 in June 2022 to 18,062 in July 2022, but 24 fewer people were unemployed last month compared to the previous month. Both are better than the number posted for July 2021, when the CLF was 17,673, and 790 of those people were unemployed, giving Hopkins County an unemployment rate of 4.5 for July 2021 (1. 2% more than in July 2022). The July 2022 unemployment rate is the lowest July unemployment rate in Hopkins County since before the pandemic, matching 2019's rate of 3.3, which was the county's lowest July unemployment rate. for at least 23 years. Hopkins County's highest July unemployment rate since 2000 was 8.2% in 2011.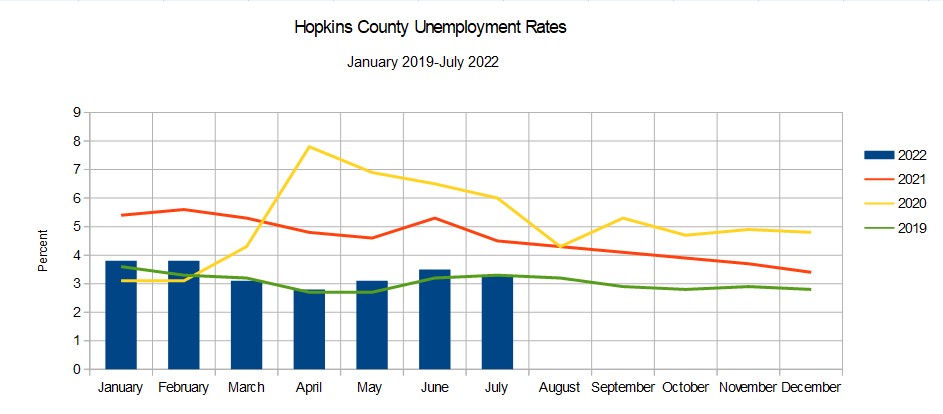 Franklin County's CLF of 5,229 was closer to the CLF of 5,279 reported in July 2021, when the unemployment rate was 4.4. However, only 179 workers in Franklin County were out of work in July 2022, compared to 234 unemployed a year earlier. The July 2022 unemployment rate was down 0.1% from June 2022, when 183 of a CLF of 5,170 were unemployed in Franklin County.
Delta County's unemployment rate also declined slightly, from 3.5 in June 2022 to 3.4 in July 2022, down from the July 2021 unemployment rate of 4.4. Delta County's CLF has continued to grow over the past year, from 2,419 in July 2021 to 2,453 in June 2022 and 2,457 last month. The number of unemployed in Delta County fell from 124 jobless in July 2021 to 105 in June 2022 and 103 last month.
Morris and Titus counties each saw a 0.3 point drop in unemployment from June 2022 to July 2022.
Morris County's unemployment rate fell from 10.7 in July 2021 to 7.6 last month, but was still the highest unemployment rate in the Northeast Workforce Development Area. east of Texas. While Morris County did not have as large a CLF in July 2022 as the 4,645 CLF in July 2021, the CLF has grown from 4,367 in June 2022 to 4,438 last month. The 4,101 employed in Morris County was almost as many as the 4,147 workers reported in July 2021. This has allowed the number of unemployed in Morris County to continue to decline, from 498 out of work in July 2021 to 344 in June 2022 and 337 in July 2022.
The unemployment rate in Titus County fell from 4.9 in June 2022 to 4.5 last month, an improvement of 1.3 from July 2021. Titus County's labor force also increased during of the past year, going from 13,570 in July 2021 to 13,632 in June 2022 and 13,701 last year. month. The number of unemployed has fallen as others gain jobs, from 781 a year ago to 655 in June 2022 and 622 last month in Titus County.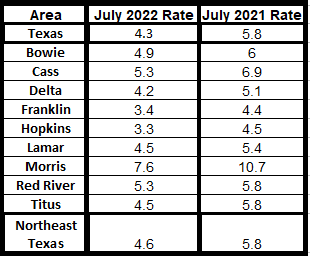 The unemployment rate was unchanged from June 2022 to July 2022, remaining at 4.9% in Bowie County, 5.3% in Cass County, 4.5% in Lamar County and 5.3% in Red River County.
Bowie County's unemployment rate in July 2022 was 1.1% lower than a year earlier. While the labor force was higher in July 2022 than the 38,883 CLF in July 2021, it was still 222 less than the 39,434 CLF reported in June 2022. The number of unemployed people in Bowie County continued to decline, from 2,336 in July 2021 to 1,943 in June 2022 and 1,936 last month.
Cass County has added workers and jobs over the past month, growing from 11,585 of 12,235 labor pools in June to 11,614 of 12,270 working last month. Cass County's labor force was still 58 fewer than the July 2021 CLF last month, but fewer unemployed last month compared to a year ago: 847 versus 656 last month. That was still 6 more unemployed in July 2022 than in June in Cass County. Overall, this represents a 1.6% drop in unemployment from July 2021 to July 2022.
Lamar County's workforce isn't quite where it was a year ago, with a CLF of 24,207 last month compared to CLF 24,395 in July 2021, but more people working. Only 23,069 were employed in Lamar County in July 2021, compared to 23,121 last month, an increase of 111 jobs from June 2022. This represents a 0.9% drop in the unemployment rate from July 2021 to July 2022.
Red River County's June and July 2022 unemployment rate of 5.3% is an overall decline of 0.5% from July 2021. One fewer person was unemployed in Red River County in July 2022 , down from 286 the previous month, but both were slightly lower than the 312 who were unemployed in July 2021. This county increased its workforce from 5,390 a year ago to 5,428 in July 2022. In the Combined, that's 5,143 employees in Red River County in July 2022, up from 5,086 employees a month before and 5,079 a year since.
Employment estimates released by TWC are produced in cooperation with the US Department of Labor's Bureau of Labor Statistics. To access this and other employment data, visit TexasLMI.com.