Cleanology CEO Joins Living Wage Leadership Group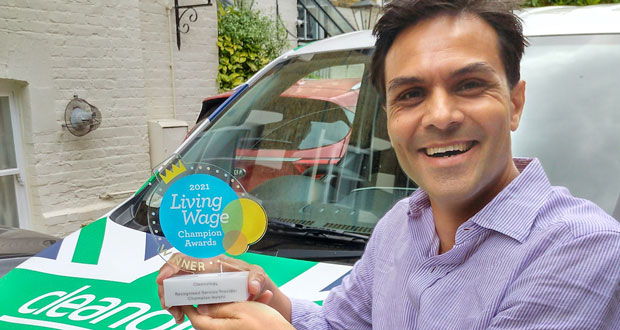 Dominic Ponniah, CEO of Cleanology, has joined the Living Wage Foundation's Recognized Service Provider (RSP) Leadership Group, which is working to encourage wider adoption of fair compensation and to make the accreditation system more efficient .
Poniah said: "I feel incredibly privileged to play a role in forming the group and pioneering fair compensation. In our industry, with many employees classified as low-skilled, living pay is an issue for many. As a member of the leadership group, I hope to serve as a bridge between the Living Wage Foundation and the cleaning industry, increase our own customers' buy-in to support the Real Living Wage, and promote transparency among companies that post credentials. fair remuneration."
Cleanology publishes a monthly report on the number of new customers joining the Living Wage. In January, this figure was 100%. In total, more than 70% of the company's workforce is paid at the real living wage rate or higher; the objective is to reach 80% by the end of the year, to reach 100% within two years.
Poniah added: "As a company, we have been advocating for Real Living Wages for over 10 years and using media platforms to highlight the need for industry support, as well as commissioning independent research into attitudes towards pay. equitable among facility management and business at large. Winning a Living Wage Champion award in 2021 was a career highlight, and one I look forward to building on.
Sebastian Bachelier, program manager at the Living Wage Foundation, welcomed Ponniah to the group. He said: "Dominic has been a big supporter of Real Living Wage and Recognized Service Provider accreditation and we at the Living Wage Foundation, We are delighted to have him join the Recognized Service Provider leadership group. He will make a brilliant addition to this group, bringing his enthusiasm, specialist knowledge of the sector and a strong commitment to real living wages as well as a commitment to wider social causes, such as the Hygiene Bank and business practices. green.
Recognized Service Providers (RSP) are companies that employ outsourced staff. Of the 10,000 businesses registered for Living Wage Foundation accreditation, 177 fall into this category.
Your free ticket for the Facilities Show 2022
Join thousands of your FM peers from around the world at ExCeL London May 17-19.
Bring the team and boost your CPD, skills and career with seminars and workshops. Test, test and find smart solutions in technology, cleaning, FM services, waste management and energy; and meet a host of suppliers for new business collaborations.
5 shows. 1 ticket.
Your free ticket to the facilities show gives you unlimited access to four other co-located events, which means you have a unique opportunity to enhance your facilities management strategy with products and solutions covering facilities management. , security, fire protection and prevention, smart buildings and health. & security.