$11.3 million to reduce ethnic disparities and boost the health workforce
The University of Hawaii receives $11.3 million in funding from WE Department of Health and Human Services to support programs and research that aim to reduce racial and ethnic disparities and stimulate Hawaiihealth personnel. This is part of a total funding of $27 million announced in an October 18 press release by Hawaii WE Senator Brian Schatz, who helped secure the funding as a member of the WE Senate Appropriations Committee.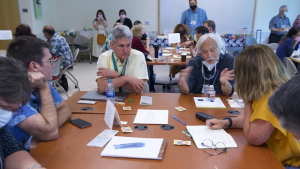 "Local agencies and organizations are doing important work providing community and behavioral health services, addressing health disparities, and conducting innovative research into cancer and other serious illnesses," Schatz said. in the press release. "By supporting these programs, we are helping to keep more people through Hawaii healthy and safe.
The uh funding includes:
$9 million to reduce racial and ethnic health disparities
$4,552,815 to support Ola

HAWAII

a specialized research center focused on addressing health disparities run by the John A. Burns School of Medicine.
Related uh New story: An array of health threats to Native Hawaiians focuses on $22.5 million grant, September 21, 2022
$2,467,767 for the uh Cancer Center to advance research on ethnic differences in cancer.
$1,521,750 for the

Hawaii

Clinical research network at uh Cancer Center to promote racially and ethnically diverse representation in clinical research trials.
$700,437 for the uh Cancer Center to study health disparities in liver disease, which disproportionately affect Native Hawaiians and Pacific Islanders.
$2.3 million to strengthen Hawaiihealth staff from
$1,279,949 for

Kapiʻolani

Community college to expand training program for community health workers and health support workers.
$999,966 for the new uh Center for Rural Health Research and Policy to advance research related to rural health, the rural health workforce, and health equity.
—Based on a WE Senate Press Release