Protesters indifferent to Covid-19 cases within the occupation | February 24, 2022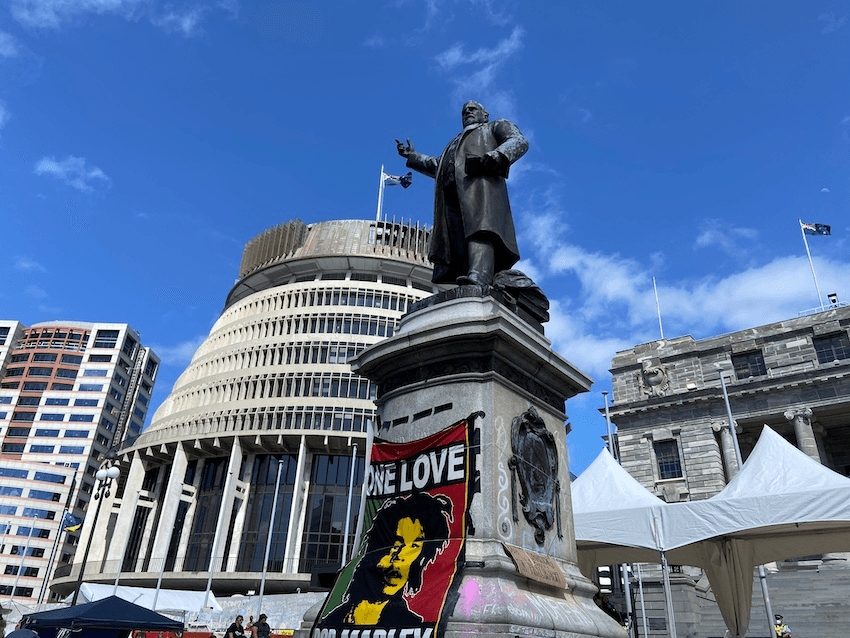 Live from Wellington:
While the number of illegally parked vehicles around the Hive has continued to steadily decline over the past few days, the hard core of protesters on the Houses of Parliament lawn appear to have remained the same.
According to the police, there are now around 300 vehicles, and about as many people are still occupying the land. That's a significant drop from the roughly 1,000 people outside Parliament over the weekend.
Many of those spoken to by The Spinoff live updates today considered themselves part of the main protest and said they would stay in the so-called 'freedom village' until they get what they wanted.
For Winona, who is collecting personal letters from protesters she plans to send to the ninth floor, that will be until the entire Covid-19 Response Act is dropped. refer to a Prime Minister's comment at the start of the pandemic about the spread of misinformation on social media, Winona said, "I loved Jacinda until she said she was the 'single source of truth'. I found that terrifying."
Winona said she believed Covid-19 was real but was unimpressed with its now confirmed presence in the camp. She was suspicious of the PCR tests and the number of people who tested positive without showing symptoms.
Nathan, a protester who camped out on the lawn outside Victoria University Law School, said he simply wanted a dialogue between the government and the occupiers. He believed many protesters would pack up and leave if the government engaged with them. "It's been two and a half weeks and they don't even want to talk to us," he said of the government. "We just want a dialogue." Nathan defended the occupation and his decision to live outside Victoria University, saying that while it was an inconvenience to Wellingtonians, it was justified. "A lot of people here have lost their jobs, their homes, their families," he said.
"We are on a high-speed train to tyranny."