Palestinian resistance to Zionist occupation is not terrorism – Al-Manar TV Lebanon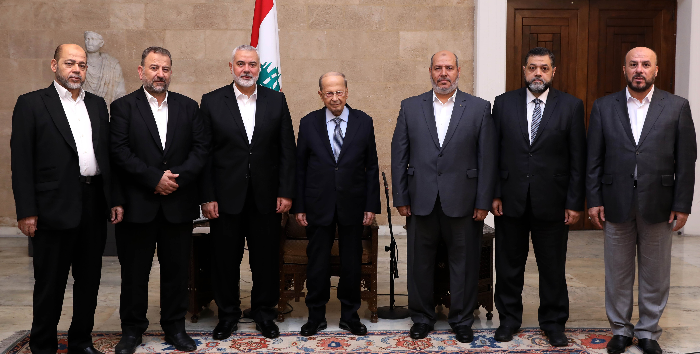 The President of the Republic, General Michel Aoun, renewed Lebanon's position on the Palestinian cause, which is represented by the affirmation of the right of the Palestinian people to establish their independent State on all their national soil, with Jerusalem as its capital, and enshrining the right of return to the land of Palestine for Palestinian refugees. The President also considered that resistance to the occupation by the Palestinian people is not terrorism.
President Aoun stressed the importance of preserving Jerusalem, where the three religions meet: Christianity, Islam and Judaism, considering that no one can imagine Jerusalem without the Church of the Holy Sepulcher and other holy places .
President Aoun's positions came during his meeting with the head of Hamas' political bureau, Dr. Ismail Haniyeh.
Haniyeh was accompanied by a delegation that included: Sheikh Saleh al-Arouri, deputy leader of the movement, Dr. Khalil al-Haya, member of the political bureau, and Dr. Musa Abu Marzouk, deputy leader of the movement and member of the Bureau Policy, Osama Hamdan member of the Office of Arab and Islamic Relations of the movement, and Dr. Ahmed Abdel Hadi the representative of "Hamas" in Lebanon.
At the start of the meeting, Dr. Haniyeh expressed the appreciation of the Palestinian people for the support they receive in Lebanon, as president and people, despite the difficult circumstances they are going through.
Then, President Aoun was briefed on the latest developments in Palestine and what the Israeli occupation is doing in Jerusalem, Gaza and the West Bank, especially the settlement projects that are being implemented in addition to the permanent exposure to places of worship and the taking of Al -Aqsa Mosque and other aggressive practices.
Dr. Haniyeh praised the steadfastness of the Palestinian people and their confrontation with the continuous Israeli attacks, hailing the Palestinian martyrs who fell in these confrontations.
Source: ANI