HBPA panel: "You have to adapt; You can't change the workforce for you' – Horse Racing News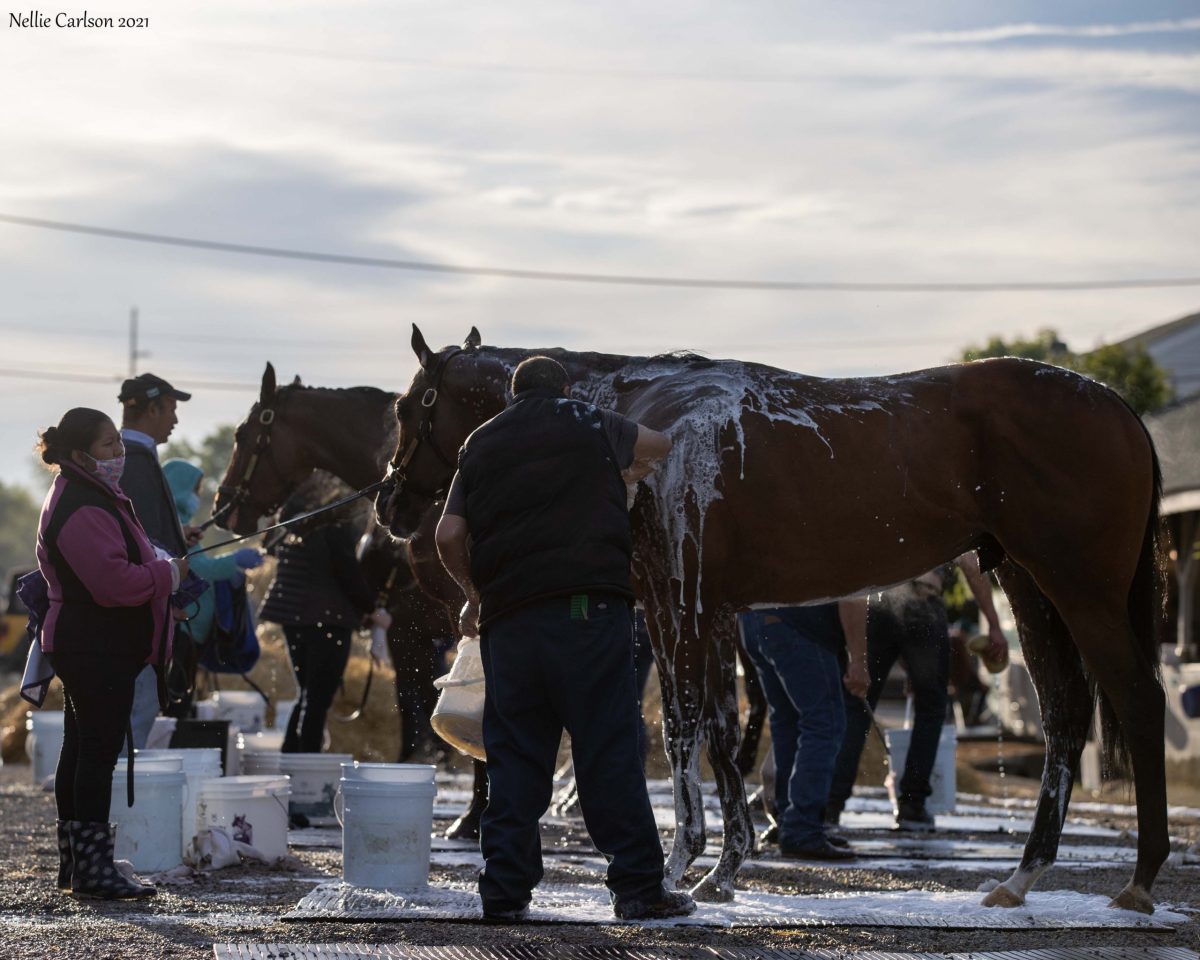 Trainers must adapt to the times to have any hope of overcoming the chronic shortage of long-term workers.
It was among the takeaways during a panel on guest worker programs and employee development Friday morning for the National Horsemen's Benevolent & Protective Association conference at Oaklawn Racing Casino Resort.
"What does it matter if you want to expand your operation with horses, build a new extension to your farm or your barn if you don't have the workers to clean the stalls, to take care of the horses?" said panel moderator Remi Bellocq, executive director of equine studies at Bluegrass Community and Technical College.
"In many cases, we appreciated the employees, but how do we keep them? Bellocq continued. "How do we stop them from running down the street to work at Amazon? Is it a question of remuneration? Is it a housing issue? Is it work-life balance or a combination? It's much easier to keep someone than to train a new worker…. Is this a big enough issue that we are launching the charge in our industry to elevate labor as a national issue, just as we have done with horse welfare and medicine? I argue yes.
Even before COVID hit the world, American horse trainers faced a chronic shortage of workers. Will Velie is one of the most prominent immigrant horse racing advocates. However, he stressed the need for the industry to build a nationwide pipeline to find, train and retain American employees. He said it was essential to show the government the programs and efforts horse racing is making to recruit domestic workers before applying for visas to supply additional labour.
Oscar Gonzales, a member of the California Horse Racing Board who is also assistant secretary of the United States Department of Agriculture, echoed the fact that the industry cannot rely on immigration reform to come to the rescue. But it offered a ray of hope through the Farm Labor Modernization Act that passed the US House and is pending before the Senate. This bill would allow non-US residents working in agriculture to receive certified agricultural worker status and put them on the path to being lawful permanent residents.
"I try to remind people in the horse racing industry that there are huge benefits to embracing our agricultural roots," said Gonzales, who worked as a groom growing up and through college. "We just have to find a way to get the workers to the racetracks…eligible for it."
Panelists encouraged trainers to discover and use existing resources that could make a difference to the quality of life of employees. These include access to education with programs such as Bellocq at BCTC, Groom Elite courses offered at many tracks, and English lessons.
Panelist Dr. Reid McLellan developed the Groom Elite program to improve the riding skills of rear stretch workers.
McLellan said his team will take their training program anywhere there is a potential employment pool, such as correctional facilities. He said that could also include an area like western Kentucky, where hundreds of chicken and candle factory workers are without jobs, homes or transportation following December's devastating tornadoes.
Bellocq said such training programs can play an important role in racehorse welfare.
"A coach hires a guy and he's on the phone trying to figure out how to put bandages on," he said, citing a real-life example, because the coach had no way to check "what that person can actually do". in terms of his skill level?' This is one of the things we have to do. »
Gonzales noted that there are plenty of grants available if riders and their representatives develop partnerships with entities such as community colleges, chambers of commerce and health clinics.
"We have such an obligation to tell our story, especially to policy makers," he said. "Never pass up an opportunity to make your voice heard."
Bellocq, who said the vast majority of his BCTC students were women, said the world was different from when he arrived on the circuit in 1975.
" You have to adapt ; you can't change the workforce for you," he said. "If a girl graduates from our program, she'll say, 'I don't want to work for Amazon. They offer me more money, retirement, insurance. But I love horses. So meet me halfway. Pay me enough so that it won't be a temptation for me to go and work there. "…Trainers, owners, managers who understand this and understand this are the ones who retain their workers longer. Those who refuse to change have a lot of turnover.
"…As business people, as riders, we're no different than the guy who has a landscaping or construction company down the road or Amazon. Either we are competitive and successful in attracting labor or we are not. It's not a gray area. »
(Panellist Julio Rubio, Kentucky HBPA Hispanic and Backstretch Services Coordinator who also works across the country as a consultant, said the number one thing backstretch employees say they would like is a day of leave per week.)
Another thing facing today's riders is the extensive paperwork that employees and employers must complete to comply with labor regulations. McLellan outlined best practices for managing a stable's workforce, recommending riders do a self-assessment of their stable.
"The question to ask when you're done is, would I work for me?" he said. "…Make a work plan. Let's sit down and look at a budget and see how can we afford to do what we need to do to be competitive in the market. Take advantage of what organizations like the HBPA offer. Because we have the possibility of bringing in accountants, human resources. We provide many services. Because if you train your team, they will help you train your horses.