Building a Future-Driven Workforce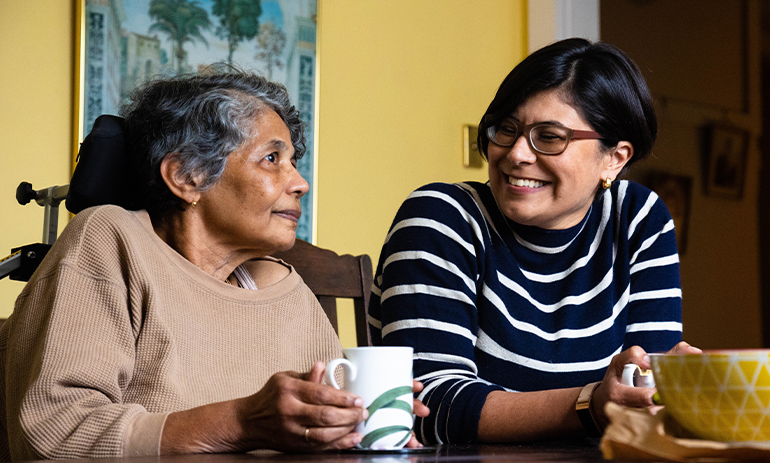 The royal commission told us to respect our elders, but we must also respect the workforce that supports them, writes Danielle Ballantine, CEO of Your Side Australia, who says now is the time to act to build capacity and skills within the health care workforce.
We've heard a lot about the supply chain issues that have resulted in bare shelves during the pandemic. Some of the same forces, along with deeper demographic and economic factors, have led to a disruption in the supply of skilled healthcare workers. We must treat our response with the same urgency and coordinated effort as when there are no groceries on the shelves.
We are asking the most vulnerable people in our community to plan home care early to avoid a crisis point or hospital. As a society and as a care sector, we must do the same. We just can't wait. Now is the time to act to build the capacity and skills of health care workers. So how are we going to do it?
The royal commission told us to respect our elders, but we must also respect the workforce that supports them. It is estimated that there will be a shortage of around 400,000 workers by 2050. If so, in 30 years we will experience a crisis greater than the shortage crisis we experienced during the pandemic. If we are worried now, we should be worried about the future. The 30-40 year olds should legitimately be worried. How are we going to meet the need we know is coming?
Remuneration and conditions
Caregivers are not paid at a level that reflects the skills and expectations involved. The entry salary for care work is about the same as that of a fast food worker. And yet, caregivers are expected to have skills such as specialized use of PPE to manage the risk of working with COVID-positive clients, understanding and managing dementia, dealing with challenging behaviors and medication management. Some of these tasks carry significant risks to their own health and safety. As more people in the future choose to stay home longer and avoid institutional care, workers will need higher skill levels to provide more clinical services at home, outside of an institution. regulated. This will require judgment and critical thinking.
The sector must come together and work in partnership with the government. These are not difficult problems to solve in my opinion – only difficult when capacity or capacity (including funds) is insufficient. People want to age in place, and we are living longer, so there will be more people who will need care. We need a skilled workforce in many roles including personal care, nursing, cleaning, gardeners, paramedics and case managers to help with access and support through the changes of aging – then the problems will be solved.
Home care workers work independently and require a high level of independence, self-management and judgment. For example, understanding how to spot potential abuse or when to report concerns about someone's mental or physical health.
Your Side ambassador Tracey Spicer doesn't think it's a coincidence that this job, traditionally done by women, is underpaid.
"The primary care workforce can be 90% female. And the economic value of unpaid care, provided by family and friends and often by women, is actually higher than some of our biggest industries like IT and hospitality. It shows that we should value women in these roles," Spicer says.
Skills
We need to rethink and create appropriate career paths. For example, the construction and trade sector benefits greatly from apprenticeship and internship funded infrastructure – there are clear pathways for progression and mentorship from experienced trainers and trades. These are government approved programs. Nursing and allied health professions have their own academic degrees, which include internships for on-the-job skill development prior to graduation. There is no equal in the care sector, yet it is one of the fastest growing sectors for employment.
We should create a clear path from entry as a social or support worker to gaining specialist skills such as moving into nursing, allied health or perhaps a specialization in mental health. We can look to other employment models to attract, develop and retain our caregivers, such as apprenticeships, internships and work placements from schools and universities. The care sector also needs heavily subsidized (or fully paid) college degrees and appropriate compensation that reflects the complexity of care work. This is the role of government. The key to retaining a good workforce is professional development, job security and supervision – and this is the responsibility of the sector.
Home care workers also need a list of clearances and must meet certain expectations before taking on a role in the care sector. For example, an NDIS worker needs background checks and often a current driver's license and a car with comprehensive insurance – all of which cost money.
Spicer says, "These are significant upfront costs before a person starts working. If we are serious about increasing the number of people working in care, we need to look at these setup costs, as well as the hourly wage so that individuals can see the financial benefit of the upfront cost versus the hourly rate over time. .
Above all, this requires a coordinated response at the national level. The sector has a few very large employers, who may be able to build bridges on their own, and hundreds of smaller suppliers. Recently, support worker platforms have also introduced individual contractor support workers who are responsible for their own training and company costs like insurance. This means that it is currently fragmented and many workers cannot access clear pathways, proper supervision and guidance. This puts the quality of consumer care at risk.
Consideration should also be given to permanently changing the rule that international students can only work 20 hours per week. This has been temporarily lifted for the care industry in COVID, but the expected shortages are more than COVID-related, and this solution means people are working and studying to increase their skills at the same time. For example, international students often study nursing and work as caregivers. This elevates the entire industry as these students increase their skills and gain access to future employment in more highly skilled roles.
Benefits
The investment in our nursing staff pays off. Skilled caregivers reduce the burden on hospitals, GPs and families. They also allow the most vulnerable in our community to maintain their autonomy.
Recent search per capita care work indicates that for every dollar spent on the NDIS, there is a return of $2.25 to our economy. There is a business case for investing in the care sector.
And if that's not enough, Spicer points out that the care sector was on the front lines throughout COVID, as were nurses.
"Without caregivers helping people stay at home where it has proven to be safer, the impact of COVID could have been much worse. Medical staff prevent people from going to the hospital," she said.
The pandemic has been exhausting for everyone, but it's time to start looking to the future. We will all have access to some kind of care in our lives and it is our collective responsibility to take an interest in the quality and consistency of that care. It won't happen overnight, but it's time to start building a care workforce that's set up to succeed and take care of us for decades to come.