Airport workers demonstrate in the United States to demand a "living wage" and the right to organize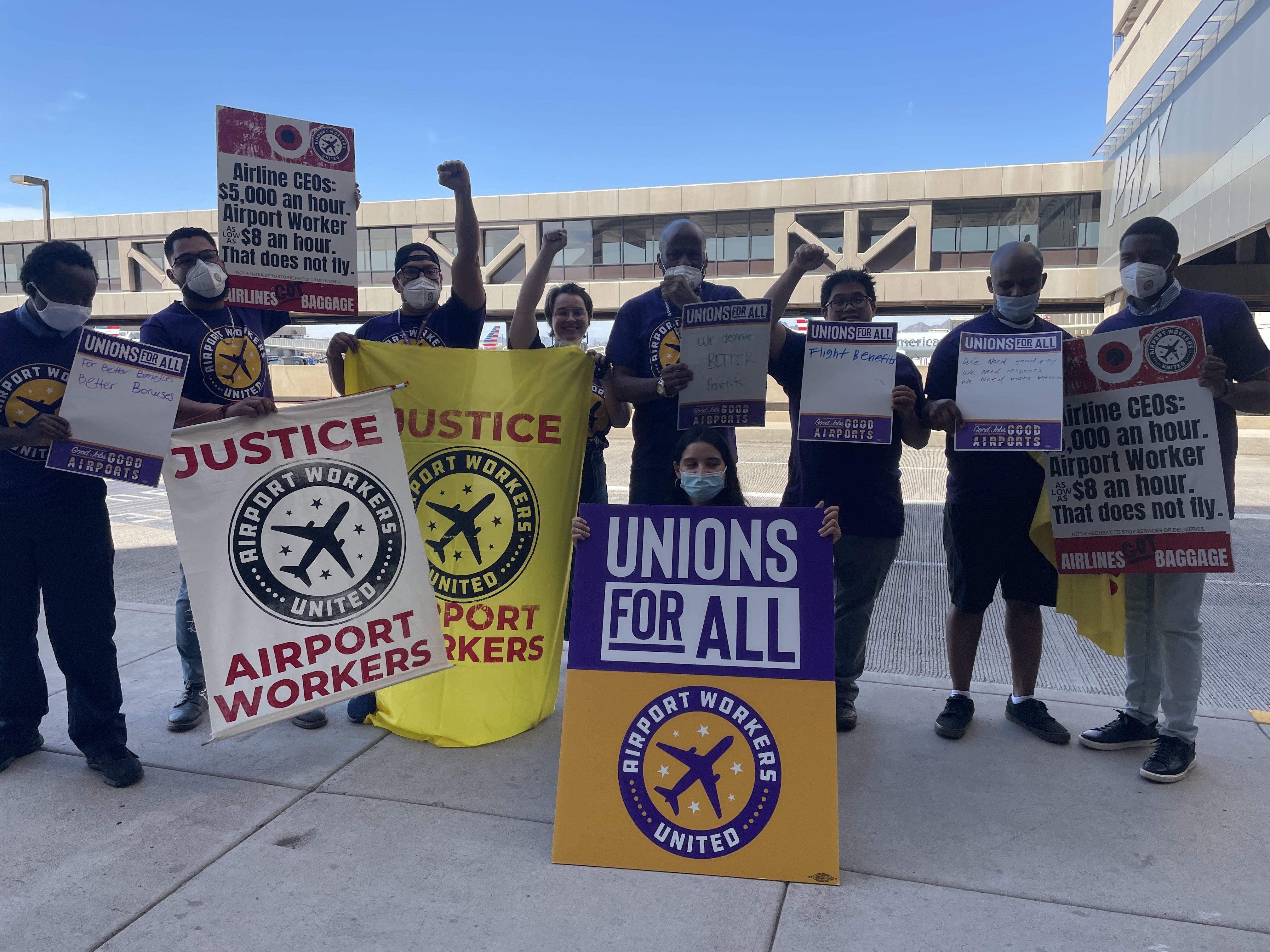 Airport contract workers – including baggage handlers, cabin cleaners, security guards and wheelchair attendants – in more than 20 US cities staged coordinated protests on Wednesday to demand higher wages, better benefits and the right to unionise.
"As an immigrant who spent 10 years in refugee camps, I have faced many hardships in my life, but none as great as the past two years."
"Airports keep our economy and our world connected. I help passengers with disabilities, elderly and others who need help getting from the airport to their plane," noted Omer Hussein, wheelchair attendant serving American Airlines at Dallas-Fort Worth International Airport, in a statement.
"I only get paid $12 an hour. I work a lot of hours and some days I work so late that I just sleep at the airport," he explained. "I can't afford to buy a car, rent it and send money to my family in Sudan. I like working with passengers, but I'm so tired all the time. It won't fly more."
Hussein added that "now airport workers like me have had enough and are taking action to demand that all airport jobs be good, unionized jobs that pay enough to support our families."
Along with his workplace in Texas, workers foreseen protests at airports in or near Atlanta, Boston, Charlotte, Chicago, Denver, Fort Lauderdale, Houston, Los Angeles, Miami, Minneapolis, Newark, New York, Orlando, Philadelphia, Phoenix, Portland, Seattle, Tampa and Washington , DC
"If I get hit by a car or a stray bullet I will tell the ambulance to take me to Dulles for work because otherwise I won't have a job when I get back," said Paul Blair, 71. a terminal cleaner at Washington Dulles International Airport, in a statement.
Blair, who suffers from arthritis and heart problems, pointed out that "we sacrificed our lives working with Covid, but we still don't get benefits and have to come to work sick because we can't afford to lose our salary".
As part of the day of action, the workers, who are organizing with the Service Employees International Union (SEIU), published a full-page advertisement in USA today with a letter addressed to the CEOs of three major airlines: American, Delta and United.
"Airports connect people around the world and power the global economy. And it's workers like us that make it all possible," the ad reads. "But we are fed up after years of jobs where we are called essential, but treated as disposable."
The letter calls on CEOs to sign the "Good Airports Pledge", which would mean pledging to:
Recognize that airlines have the ability and responsibility to end poverty wage jobs and inequality through the system;
Ensure that the billions of public dollars airlines receive each year serve the public good, not just shareholders and executives;
Establish a minimum wage and benefit standard ensuring that all workers receive a living wage and benefit from affordable, quality health care and paid leave;
Respect the right of workers to form a union; and
Ensure that contracts with airport service providers are able to meet living wage and fair benefits standards and encourage contracts to be neutral where workers organize a union.
"Amid a national toll and a surge of workers exercising power, airport workers are building on years of organizing and asserting themselves as the new force in the burgeoning labor movement," said SEIU International President Mary Kay Henry ahead of the protests. "They are standing up to airline CEOs, raising their voices to demand respect, protections and a salary they can raise a family on."
"They are fed up with a system where black and brown workers earn tens of thousands of dollars less than their white peers, and they are taking action," added the union leader. "Airlines have long proven that they cannot be trusted to use the billions of public dollars they receive to serve the public good."
In statements about the protests, some workers shared how the ongoing Covid-19 pandemic has affected them.
"As an immigrant who spent 10 years in refugee camps, I faced many hardships in my life, but none as great as the past two years," said Ababuti Olok, a skycap worker and wheelchair attendant at Boston Logan International Airport who lives in Chelsea with his wife and two sons.
"I was grateful to be back at work after being laid off for several months, but I was still more than three months behind on rent and worried that my family would be left homeless. Even now, I'm still in behind on my bills," he added. "I need help so that my children can stay in our house."
Skycap Almaz Abera, who has worked at Ronald Reagan Washington National Airport for 18 years, said "almost all of my co-workers have caught Covid, I'm very sad about the loss of my co-workers Ana and Brook, sometimes we cry when we let's talk about them."
"Those without health insurance cannot afford to go to hospital, and often die from it," Abera noted. "Those who have health care do it because they can afford to go to hospital. We have to fight the airlines for health care and sick leave because you can die and they s don't care."
Some federal lawmakers, including Reps. Gerry Connolly (D-Va.) and Pramila Jayapal (D-Wash.), have expressed support for the protesting workers.
"Airport workers can be paid as little as $8/hour, while CEOs are paid an average of $5,000/hour," tweeted Jayapal, chairman of the Congressional Progressive Caucus. "It's time to raise the wages of workers across the country."